Well, the year 2020 will soon come to an end. It's been quite a year, but together, and for the children's sake, we are making it through!
A lot has happened at SUMMIT this year! And, while most of it revolved around our COVID Response, we were able to make great strides in a lot of important areas. We are proud to be involved with the amazing response from the community. Organizations are focusing on the needs of everyone, as we have all been affected in various ways. Partnerships have grown even stronger during these times.
Our Community Partners Day was held virtually this year, and was a great way to share information about community services offered for children and families. It was wonderful to have so many agencies from Snyder, Union, and Northumberland Counties participate. Attendees said they appreciated information about services that families use daily. And, because the information is always evolving, it was nice for those who were already familiar with the services to get an update! 
ADDITIONAL SUMMIT SERVICES DURING THE PANDEMIC
When schools are using a remote learning option, SUMMIT now offers all day programs for school-age children (kindergarten – 6th grade). Hours are 6:30 a.m. – 4:30 p.m. Call or email our enrollment specialists for more info! 
570-966-2845 | ENROLLMENT@SUMMITEL.ORG
Something else that we've added to our "plate" this year is making sure that all children are receiving healthy meals, even if they are not attending school in person. Many of our staff, including our Nutrition Coordinator, Cooks, and Family Support & Engagement Team, have been doing extra shopping and preparing and delivering packages.
Menus are developed and ingredients for meals are distributed to families. We'd like to give a big shout out to Deb Field, Marlee Roberts and their Team for all of the time and care that they've been putting in to ensure the success of this effort.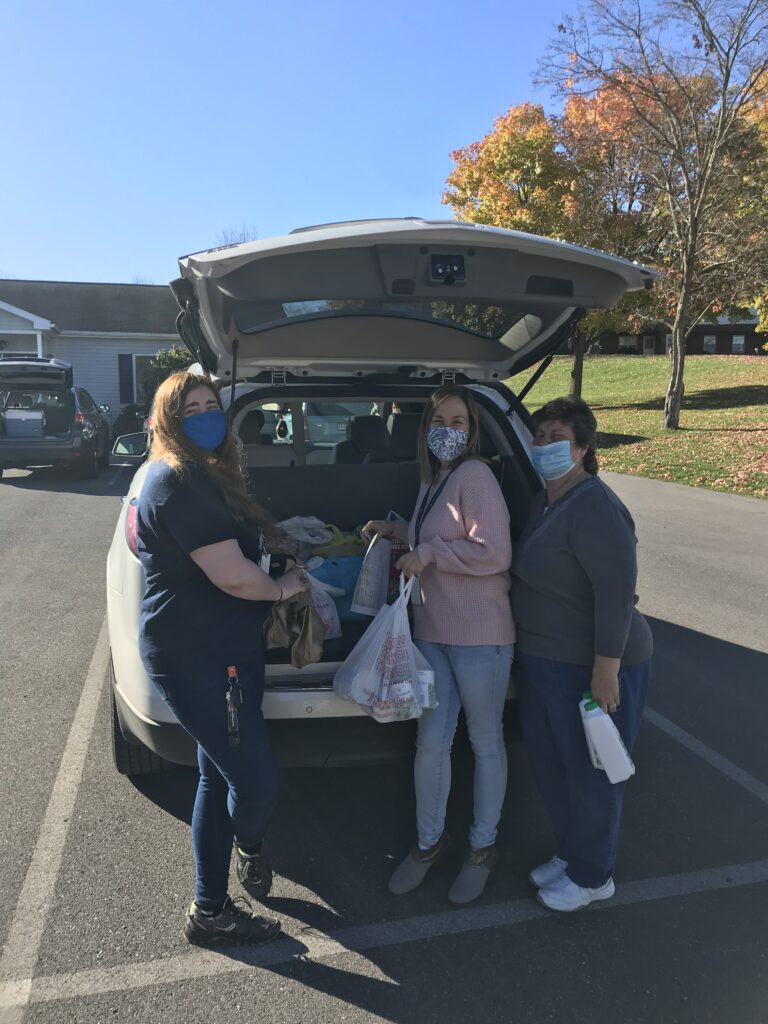 GATHERING & USING DATA
Every day, our teachers are gathering information about each child and entering that information into our assessment system, called Teaching Strategies GOLD. One of the most important things that we do with the data that our staff collect is to assess how each child is doing in all each of five essential domains of School Readiness. Below are SUMMIT's intentions related to each domain:
Social Emotional: Children will develop positive relationships with peers and adults, while learning to regulate emotions and behaviors.
Physical Development & Health: Children will develop improved gross and fine motor skills.
Language & Literacy: Children will demonstrate age appropriate phonologic awareness.
Approaches to Learning: Children will demonstrate persistence, problem solving, curiosity, and motivation in learning.
Cognition & General Knowledge: Children will demonstrate age appropriate cognitive skills and general knowledge in the areas of mathematics, science, and social studies.
Goals are developed with parents and teaching staff create lesson plans that provide intentional experiences so that children can meet developmental objectives and early learning milestones.
We aggregate and analyze the data by student, classroom, center, and as an agency overall. Then, we determine progress and areas for improvement.
Children are constantly learning and growing. We are honored to be a part of each family's experience. And, we take our role very seriously, knowing that these early childhood years are critical to a child's future!