BACK TO SCHOOL TIME
It's back to school time! It's always so exciting around this time of year to see the new faces in our centers, classrooms, and home-based programs. As you know, we are doing all that we can to make sure that children can consistently attend classes in person. Health and safety is always a high priority for us and we continue to vigorously and safely clean, sanitize, and disinfect to help stop the spread of germs and viruses. Our Health and Operations Teams, as well as center and classroom staff, stay on top of this and are vigilant with their daily routines. 
PROGRAM SPOTLIGHT
EARLY HEAD START is a program for expectant and new parents and offers:
Support throughout pregnancy to promote a healthy prenatal experience for parents and baby.
Support for parents in their roles as the primary caregivers and teachers, during early childhood years.
Comprehensive services include: Nutrition, Health, Mental Health, Disabilities Services, Family Engagement, Social Activities.
SAYING GOOD BYE AND WELCOMING NEW STAFF
After 44 years and holding almost that many positions, Carol Budd is retiring from SUMMIT Early Learning. If we had to describe Carol, some words that come to mind are: compassionate, dedicated, hilarious, welcoming, fun, and knowledgeable of all things early childhood and social services!
SUMMIT would not be what it is today without all of the efforts that Carol has put in over the years. So many lives have been touched! It won't be the same at SUMMIT, but we will always remember Carol Budd!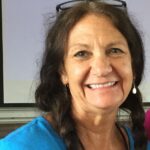 Shane Bierly has joined SUMMIT as the Operations Coordinator. Shane's son, Chase attends SUMMIT's Mifflinburg center.

While there is never really a "slow" time for SUMMIT, Shane was thrown into the thick of things with the new school year upon us! No better way to learn!

Shane, with his background and experience, will be an asset to the Operations and Management Teams and we are very happy to have him!
STAFF TRAINING DAY
We were able to get all staff together this year for our annual Agency-wide Training Day. The theme was Show Your True Colors, and we kicked off our new Positive Behavioral Interventions & Supports (PBIS) initiative! (Be on the lookout for more info on this soon!)
Staff were treated to a keynote address about leadership from Caz Russell and his dog Huckleberry!
It's always good to get everyone together and geared up for the new year!
A Summer in Review: Camp 2021